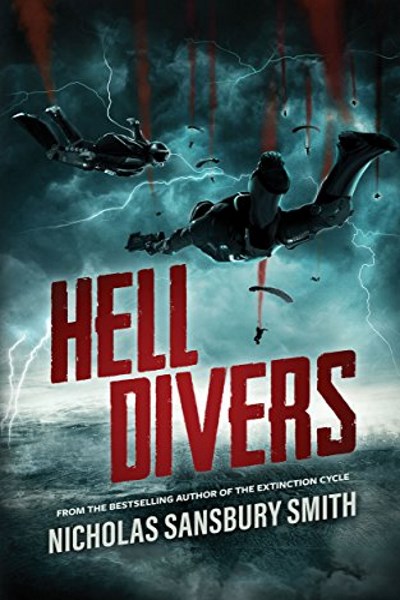 Rating

Review
Two hundred and fifty years ago the world was plunged into World War III. The result was the near annihilation of the human race and the devastation of the Earth's surface. The only humans to survive the apocalypse were those onboard the very same airships that dropped the destructive bombs in the first place. But even those airships have failed over time. With nowhere to land to resupply or effect repairs, the few remaining airships rely on Hell Divers—shipman who leap into the abyss to land on the surface and scrounge for materials to keep their homes aloft. The diving itself is dangerous enough, especially when considering the massive, violent storms that can spring up without notice. Throw in deadly radiation and the job for the Hell Divers just got a whole lot more deadly.
The premise for Hell Divers by Nicholas Sansbury Smith is amazing and exhilarating at the same time. I have to commend the author on his worldbuilding, which is really superb. Not that everything in this book reaches that lofty level; there are plenty of cliches, tropes, and the usual stereotypical characters and sub-plots. But sometimes it's about blending all of those tired concepts together is just such a way that you end up with something that is ultimately gripping and enjoyable.
No doubt the narrator contributed greatly to these accolades. R.C. Bray has just the right inflections, reading style, and gravelly voice to deliver Hell Divers to the reader in a gritty yet stylish manner. He does an excellent job bringing the various characters to life, changing voices to fit in such a way that it almost seems as if there are multiple narrators and not just the one. Choosing a narrator is a tricky business for an audiobook; the publisher made the right selection here.
The central character is Commander Xavier, or X for short. He's a fairly stereotypical character, with a tough as nails attitude and a rough exterior that mostly hides his heart of gold. Xavier is also an anomaly. Normally, Hell Divers survive for about fifteen missions. Xavier has completed nearly one hundred. As the story progresses, Xavier's ability to survive will be tested like never before as he and his team must jump into a landing zone so bad it has the nickname Hades and a reputation like no other for killing Hell Divers. But, as one might expect, the fate of X's airship and every life on it are at stake, so failure is not an option.
I'm giving Hell Divers four rockets because it's a near perfect blend of dystopian and military science fiction. The worldbuilding is excellent and the narration superb. I recommend the book in any format, but I found the audio version particularly enjoyable. R.C. Bray really was a great choice to narrate. One last note: I acquired Hell Divers as a loan from my local library. I encourage everyone to check out your local library and to help support them in any way you can. Why not put a hold on Hell Divers today?