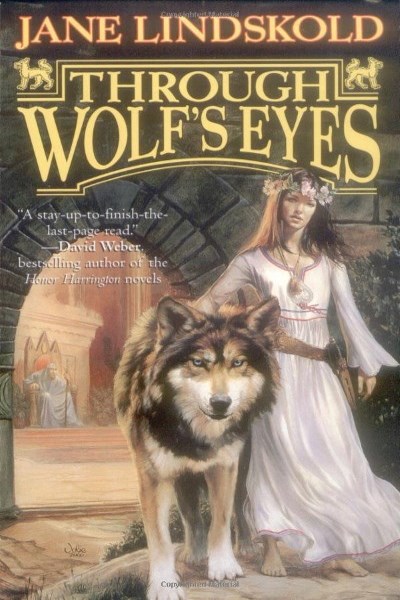 Rating

Review
Through Wolf's Eyes by Jane Lindskold follows the basic Tarzan theme: a feral child living amongst the animals (in this case, wolves) is discovered by an expedition and brought back to civilization. The child, a young woman known by wolves as Firekeeper but by humans as Blysse, is thought to be the daughter of the king's brother. Turns out the king has no heirs. As a monarch approaching the end of his years, he is pressured by various parties to make a selection from amongst his eligible relatives. If he doesn't choose, civil war is a very real possibility. The return of Lady Blysse throws a wrench into the plans of those factions and individuals vying for the king's favor as she quickly makes an impression upon the elder statesman.
The story would seem somewhat predictable from there, except it isn't. Not that it is a terribly complicated plot, but Lady Blysse/Firekeeper does not simply step into the role of the king's heir. In fact, when offered the responsibility, she turns it down. From that point on, the suspense is raised a notch as the reader is left hanging nearly until the end before we learn who the king has selected. It may very well be Blysse; everyone assumes it is. I won't ruin it if you decide to pick this one up, but let's just say the not knowing creates some contention amongst otherwise already strained relations.
The writing in Through Wolf's Eyes is excellent. At times suspenseful, funny, and intriguing, it is only because the story unfolds so very slowly at times that keeps me from giving this novel a stellar review. It is most definitely a competent, well-told, and interesting story. But it really lags about midway through as Lindskold spends too much time developing relationships between Blysse/Firekeeper and various other members of the royal household. It reminded me mostly of a Bujold story: interesting characters, a well-developed world, and a smooth, easy-to-read story. But it takes some time before the place Lindskold is leading us to become apparent.
Don't let the cover fool you, either. It's dated and could use a refresh, but it's in no way an indication of the quality of writing or storytelling inside.
There is some history or backstory that Lindskold discusses at times but doesn't explore too thoroughly: long ago, "high" animals coexisted with humans. Blysse brings two such high animals with her in the forms of Blind Seer, a very large wolf, and Elation, a peregrine falcon also larger than the norm. Blysse can communicate with both animals, and they can communicate back. It is something people do not question nor challenge. They just accept it as the sign of madness they believe it is. Lindskold could have gone further with these animals in terms of their prior relationship with humans and possibly she does in a later novel.
Through Wolf's Eyes is the first book in a series that spans at least five novels.