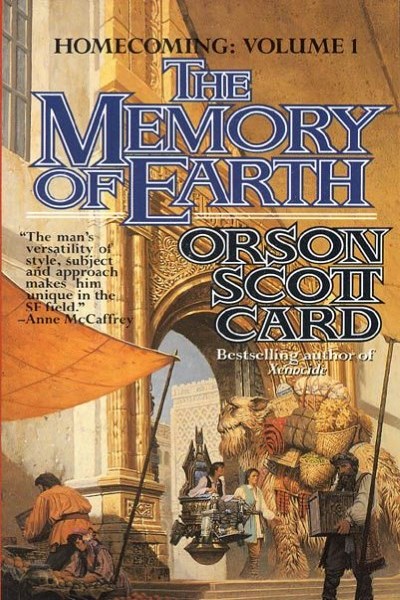 Rating

Review
So I'd never read anything by Orson Scott Card before. Of course I had heard of him and seen his books all over, but he was just one of those authors I never quite got around to reading. While that misstep has now been corrected, I had to put down The Memory of Earth.
I fully intended to read the book front to back, but something had been nagging me almost since the beginning. Given that I was a newcomer to Card's work, I was keeping an open mind and had no idea what to expect except that he's a prolific author so his stuff must be good, right? The thing is, the book isn't bad, it's just not good. It's a great idea--benevolent supercomputer controls peoples' minds, keeping them from destroying each other like they did literally 30 or so million years ago on Earth. Except that the computer starts to break down and needs help, so it starts to send certain individuals visions (that's how it communicates) saying more or less that it needs help. Sounds good, right?
Except the book really lacks two things: (1) execution and (2) complexity. What I basically mean by #1 is that not enough happens, and, when something does happen, I often thought, "oh, that's nice". Not nearly enough suspense and the characters really aren't engaging enough. #2 has to do with the author's style. It's too simplistic. He tells me that this character is angry, and this one is sad instead of showing it, or something happens where its painfully obvious what's going on, but Card has to come along and throw in an explanatory sentence just in case you didn't get it. It was annoying to say the least.
One of these days I'll take a look at
Ender's Game
, if only because it's considered the author's seminal work. For now, though, Card fades to the background on my reading list.