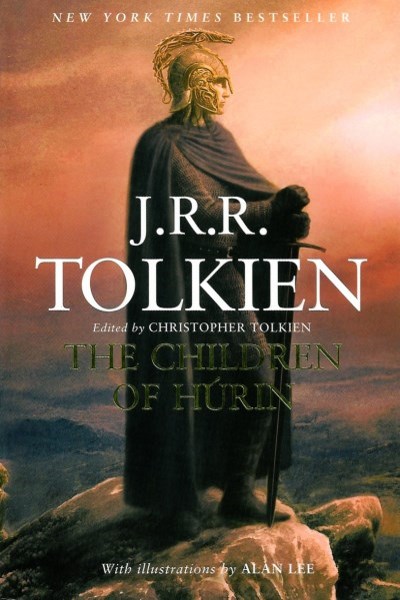 Rating

Review
The Children of Hurin by J.R.R. Tolkien (edited by Christopher Tolkien) is the tragic story of the scions of Hurin, Turin and his sister Nienor. Step into the wayback machine; this tale takes place long before The Hobbit
or The Lord of the Rings, when the First Dark Lord, Morgoth, sought dominion over all of Middle-Earth.
Morgoth has fled from his Valar brethren, taking up residence in his dark fortress, Angband, There he plots to conquer all of Middle-Earth. At first, only the Elves oppose him. But then Men revolt against Morgoth. The Elves welcome their new allies, most of all Hurin, who above all others defies Morgoth to such an extent that the Dark Lord takes a personal interest in him. Morgoth captures Hurin and places a curse on his children. He then forces Hurin to watch as Turin and Nienor's lives unfold. Always, there is Morgoth's curse hanging over them and, ultimately, leading them to tragedy.
Unlike The Silmarillion, The Children of Hurin is readable. Where the former requires a classroom of Tolkien scholars to help interpret exactly what is going on, the latter is told in an easy narrative style. Christopher Tolkien, who edited the drafts and notes of his father to put this story together, says in the preface that he wanted to tell the story in a more accessible fashion, recognizing that The Silmarillion and The Book of Lost Tales
were anything but. That being said, The Children of Hurin, while readable, is told in a distant narrative style. Don't expect a lot of character viewpoint here; it's all told in third person omniscient. It's all telling, in other words, and no showing.
Much of the story has to do with Turin, son of Hurin. Turin comes to realize the curse he carries early on. As a result, he becomes a wanderer and wears many hats (and false identities) as he moves from one part of his life to another. He is often recognized as a natural leader, a stalwart ally, and a fierce combatant, though, and always he is thrust to the forefront where eventually his true identity comes to light. It is then when tragedy strikes as Morgoth's curse inevitably finds him time and again.
Turin uses many names corresponding to the false identities he takes on in an attempt to in some way forestall the curse. I found all of the names added to the already difficult names Tolkien bandies about. Fortunately, there is a "List of Names" in the back of the book which I found myself referencing often just to keep the various characters straight.
I enjoyed The Children of Hurin. It's a good addition to the Tolkien legendarium, though if you're looking for something as entertaining as, say, The Lord of the Rings movies, you might be disappointed.