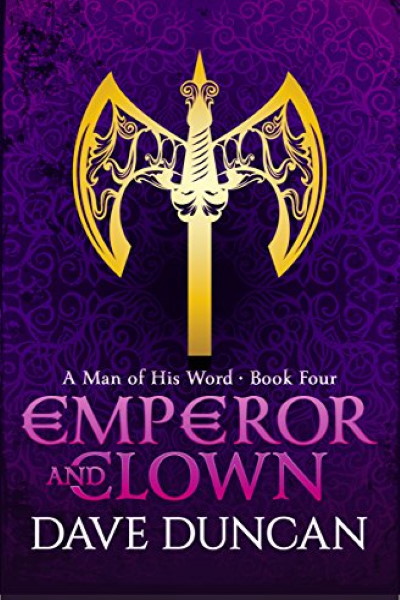 Rating

Review
Let me say this outright: this was a tough book to finish. Really, it was a tough series to finish. It showcases a unique magic system, main and supporting characters of various non-human races (with nary a human in sight), and tells a story that encompasses many kingdoms and lands (nearly the entire known world, really). It's grand storytelling from someone I've long considered a grandmaster of the genre. Yet something is missing in this series and certainly in this final book. For me, getting through it was difficult.
From looking at other reviews on Goodreads, it would seem I am in the minority in my opinion. That's perfectly fine with me. Not every book resonates with every reader the same way. Also, I have enjoyed all the other books I've read by Duncan, so I really wanted—expected even—to like this series, especially since I'd heard and read many good things about it. So where did it go wrong?
First, there's the main characters, or rather one of them: Inosolan. Inos had some great potential which I felt was never fully realized. She begins the series as a naïve princess whose picture perfect life is thrown asunder when she is stripped of her kingdom and the protection it affords her. She comes to realize the world is a much harsher place than she could have imagined, and herein lies the beginning of a story arc where I expected (and wanted) her to rise up and take charge in a big way. Instead, she mostly seems to accept her fate with a level of capitulation which I found dissatisfying and unpalatable.
Then there's Rap, who I admired for his honesty and fortitude, but ultimately grew tired of because he just never seemed to seize the day in the way which I expect main characters to do, especially in the final book in a series. He's come a long way from simple stable boy, but even after much character growth he still seems to lack the conviction necessary to save the day.
As for the story, while it does end nicely, it takes a really long time to get there. This book, like the others, is most definitely not a page turner, so prepare to dig in for some time to get through it.
I'm downgrading Emperor and Clown by one rocket compared to the previous three books in the series because, above those others books, it should have been the one to rule them all with a climatic, spectacular finish. Instead, it was a fizzle. Two rockets is all I'm giving this last book. The series as a whole is good, but not great, and certainly not good enough that I feel it needs to be on every serious fantasy reader's reading list.