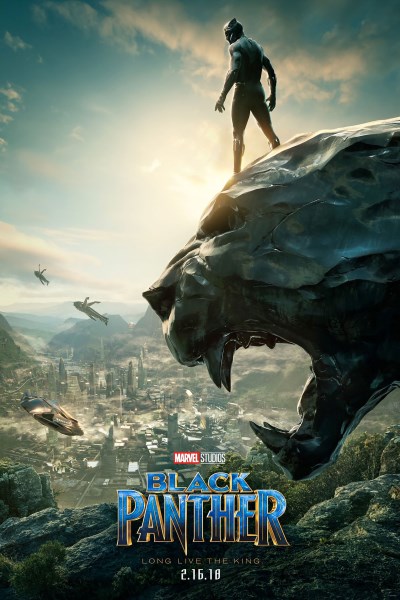 Rating

Review
It's not often I see movies during their opening weekend, but Black Panther seemed like something special. So with a rainy Saturday morning in the forecast, venturing out to my local Cinemark seemed the natural thing to do. The hype for this movie had already been pushed to such staggeringly high levels that I wasn't sure what to expect. Having now seen the movie, however, one thing is certain: I was not disappointed. Coming in at a heightened Rotten Tomatoes score of 97% heading into its release date of February 16 and on track to break box office records left and right, including a prediction to bring in close to $200 million over the film's opening weekend, Black Panther enters what has become a very crowded comic book movie arena. Yet Black Panther stands out in so many ways it deserves all of the accolades it has garnered thus far and then some.
The movie picks up right after events in Avengers: Civil War, with T'Challa still emotionally recovering from the death of his father while reconciling the fact that he is now King of Wakanda. His ascension to the throne is not guaranteed, however, as, by custom, any can challenge to take the crown and the mantle of the Black Panther. That becomes one of the overall premises of the movie, though there are layers upon layers of character motivations and sub-stories interlaced throughout. I won't give away any spoilers, but suffice to say someone does challenge T'Challa and the fate of Wakanda hangs in the balance as a result.
Beyond the story, Black Panther absolutely shines in its distinctive Afrofuturism culture. At its base, Wakandan society is firmly rooted in African tradition. The passing of the crown from one king to another, for example, is steeped in ritual that has been maintained and practiced for hundreds of years. Yet because of reasons I won't go into here (no spoilers and all), Wakandans have developed technology and scientific advancements that are so far advanced beyond the rest of society I don't think you can call it anything other than futuristic. As a result, Wakanda is a stunningly advanced city that defies stereotypes and establishes itself as a truly unique place amidst the MCU.
The casting is everything you might hope, with the title character played regally by Chadwick Boseman. Almost from the get-go, you begin to see that while Black Panther is a force unto himself, he wouldn't last long without the support of those around him. I hesitate to even call these actors out as playing supporting roles because they are so important to the story that it's almost as if we have multiple leads. Heading up this list of alternate leads, then, is Danai Gurira, who portrays Okoye. Gurira takes her Walking Dead character to new heights as Wakanda's general and leader of their special forces. Also, there's Lupita Nyong'o, who plays spy and War Dog, Nakia. In many ways she is T'Challa's moral compass as she advocates for Wakanda to do more to help the less fortunate across the world. T'Challa's sister, Shuri, played by Letitia Wright, is perhaps my favorite character. Smart, funny, and energetic, she is the 007-like Q of Wakanda, having designed many of the gadgets Black Panther utilizes as well as making improvements to the armor and to the city itself. She is perhaps smarter than even Tony Stark, which had me wondering what it'd be like to have those two in a room together with all of their smarts and techno-babble! Shuri steals many scenes and scores the highest in laugh out loud moments in my opinion. Last of those I'll mention is Michael B. Jordan, who portrays the villain of the film, Erik Killmonger. Killmonger is about as sympathetic of a villain as you can get. He is a bad guy; no doubt about that. But his motivation is so understandable that I was almost as behind him as I was Black Panther.
There are so many other characters that were so well done that I could spend many more paragraphs discussing them. The writers and director, Ryan Coogler, made a point of introducing secondary characters not as flat personas but as real people with motivations and personalities uniquely their own. This adds depth to a movie that, quite frankly, already had it.
I don't know what else to say about Black Panther but to go see it. As Emily Asher-Perrin of Tor.com asks, Why Are You Reading Reviews About Black Panther When You Could Be Watching Black Panther? I second that. Stop reading reviews about Black Panther and go see it for yourself. You won't be disappointed.