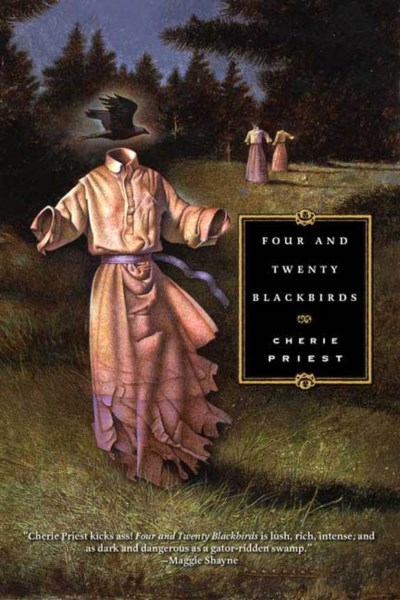 Rating

Review
Four and Twenty Blackbirds by Cherie Priest is a modern day urban fantasy with deep roots going back to the time of the Civil War. That fact is interesting because Priest's later work, namely Boneshaker, Dreadnought, and Clementine, are all set in an alternate history where the American Civil War continued well beyond its 4 years. That's more of an aside, however, as Four and Twenty Blackbirds does not take place in the same world as those other novels.
Four and Twenty Blackbirds is a ghost story. The lead character, Eden Moore, is haunted by three women who died under unknown circumstances. Eden suspects the three have something to do with her own mysterious origins, and so she sets out to discover where she comes from. The story is really that: Eden follows one clue after another, reacquainting herself with long lost relatives while staying ahead of an odd cousin who wants nothing more than to end her life.
I would classify the story as urban fantasy. Eden is a fairly typical, spunky heroine of the genre. Other characters are interesting and colorful. The ghosts are mysterious, but I would have liked to have seen more of them. Their own origin is not revealed until the climatic ending.
The term "Four and Twenty Blackbirds" is not new. Its origin seems to lie in the nursery rhyme, Sing a Song of Sixpence, which begins,
Sing a song of sixpence,

A pocket full of rye.

Baked in a pie.
Both Mercedes Lackey and Neil Gaiman contributed works that bear the name. There's even a Brooklyn pie shop that uses the name.
Those facts aside, Four and Twenty Blackbirds was an enjoyable read, though a heightened level of suspense might have elevated it to a higher rating.