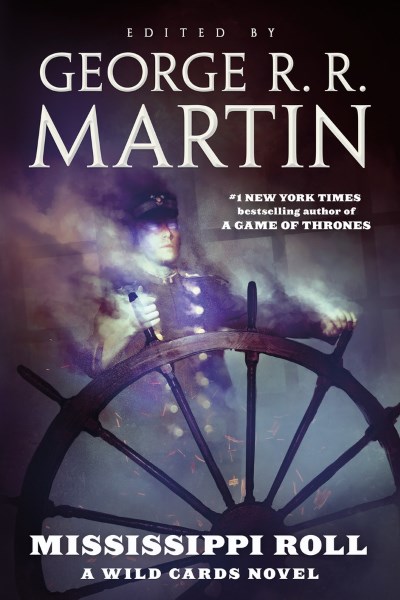 Rating

Review
Thanks to Tor Books I have a hardcover edition of Mississippi Roll to give away. Head over to the giveaway post for more info.
Mississippi Roll is the latest installment in George R.R. Martin's popular Wild Cards series of shared world anthologies. I generously received an advanced review copy of the novel from the publisher in exchange for a fair and honest review. The series is very long; Mississippi Roll is the twenty-fourth book. Fortunately, it's not necessary to have read the previous books in the series in order to enjoy this new one. This novel was, in fact, my indoctrination into the Wild Cards universe; I had absolutely no issues jumping in and immersing myself in the world. I did, however, spend a few minutes perusing the web to learn what the Wild Cards series was all about before I'd gotten too far with my reading. I'd recommend the official Wild Cards web site, called Wild Cards World, as well the unofficial one, Wild Cards Online. I found both sites very informative. In fact, straight from the latter site is this bit of background info (which is really all you need to know before reading):
An alien bomb is detonated above the planet, shedding an indiscriminate gene virus on an Earth barely recovered from the horrors of World War ll. The result: Wild Cards. ACES blessed with superhuman powers and JOKERS cursed with bizarre physical and mental disfigurements.
While the Wild Cards novels are edited by George R.R. Martin of Game of Thrones fame, the stories themselves are written by a wide cast of authors. Mississippi Roll boasts the talent of Stephen Leigh, David D. Levine, John Jos. Miller, Kevin Andrew Murphy, Cherie Priest, and Carrie Vaughn. You may be asking yourself how Mississippi Roll can be classified as a novel with so many authors having taken part. Isn't it by definition a collection of short stories? The answer is both yes and no. There is an overarching storyline that's moved along via each individual story and a continuity that's established by each author's contribution picking up where the last story left off, though from a different character's perspective. What binds all of the characters and their disparate, individual storylines together is the fact that they are all onboard the same steamboat, the Natchez, and they all cross paths with one central character: the Natchez's captain, Wilbur Leathers.
It is the year 1951 when we are first introduced to Wilbur Leathers, a vibrant river captain who shares the steamboat he calls home with his wife, Eleanor. Tragedy strikes and Wilbur is changed into what he thinks is a ghost. Given that this is a Wild Card novel, though, chances are he's actually become an Ace, Joker, or something in between. Regardless, this life change brings about a separation from Eleanor, who leaves the Natchez forever, and a seemingly eternal captivity for Wilbur, who finds he is unable to leave the boat at all. Years pass as the Natchez finds herself with new owners, captains, and guests. All the while, Wilbur Leathers "haunts" the steamboat, becoming something of an urban legend.
That's the setup for Mississippi Roll. From there, the reader is introduced to a menagerie of colorful characters, their interactions while onboard the Natchez becoming the basis of each of the stories. Even though each tale is penned by a different author, I found the reading experience to be very level and smooth. This is the mark of a good editor; you can't do much better than Mr. Martin. The characters are a mix of unchanged humans, Aces, and Jokers. The latter have talents that either get them into trouble or cause trouble, though all types of people alike are simply getting by in this world, some trying to make their mark more than others. There is no evil, per se, though there is certainly an alignment of better and worse as the stories progress and the central plot eventually comes to a head.
The writing is top notch all-around, which shouldn't be a surprise given the list of contributors. That being said, no particular story stood out to me above any other in terms of quality, though I can't say the opposite, either. Overall, it's a well written set of stories with some imaginative plots and characters. Mississippi Roll is appropriate for all ages. The stories range from lighthearted to suspenseful with some violence mixed in here and there. Only one story has strong violence as one of its central themes, but that one also involves forbidden love (so of course things are going to get violent).
What really stands out in Mississippi Roll is the character and story of Captain Leathers. He binds all of the disparate stories together but also has one of the most interesting and intriguing storylines of them all. I felt for his situation and applauded his final fate, though it is not necessarily a good one. But he does find some peace, which is, I think, the best one could hope for given his situation.
Mississippi Roll is an entertaining jaunt aboard a steamboat of old. The stories flow together seamlessly (a credit to the editor) and the overall story is fun and engaging while fitting nicely into the Wild Cards world. I'm giving it four rockets and a recommendation to add it to your TBR list.