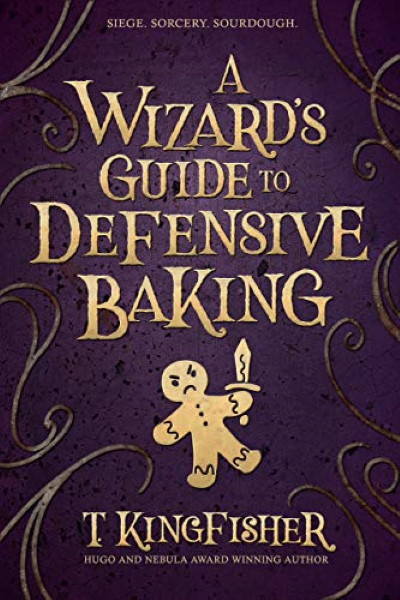 Rating

Favorite Quotes
"I haven't seen a lot of dead bodies in my life—I'm only fourteen, and baking's not exactly a high-mortality profession—but the red stuff oozing out from under her head definitely wasn't raspberry filling."
"The gingerbread man began to dance a very respectable hornpipe. Don't ask me where the cookies get the dances they do—this batch had been doing hornpipes. The last batch did waltzes, and the one before that had performed a decidedly lewd little number that had even made Aunt Tabitha blush. A little too much spice in those, I think. We had to add a lot of vanilla to settle them down."
"It is nearly impossible to be sad when eating a blueberry muffin. I'm pretty sure that's a scientific fact."
Review
Light and whimsical, yet dark and funny at the same time, T. Kingfisher's A Wizard's Guide to Defensive Baking plays to some familiar tropes but manages to entertain nonetheless thanks to its unique storytelling. The book's main character, Mona, is a baker's assistant, but she's also a wizard with the power to manipulate dough. That may not sound all that useful, something which Mona repeatedly reminds us throughout the narrative ("As wizards go, I'm pretty much the bottom of the barrel."), yet it is Mona who must wield her powers at the very end to save her entire city from certain doom.
The story opens with a murder which Mona discovers on the floor of her very own bakery in the early morning hours as she is stoking the oven fires for the morning's work. The victim, Mona discovers, was a wizard, and she isn't the first to either turn up dead or go missing. Not soon thereafter, Mona finds her own life in danger, and so she flees the bakery to not only save herself but also to unravel the mystery of the missing wizards in the process.
Mona is a young lady with a wry sense of humor and a bit of a self-esteem issue (what young person of thirteen or so doesn't suffer from this?). Yet she's stronger than she thinks. While eluding a killer, she forms alliances with wielders of death magic, scullions adept at thievery, and even the royalty of the city, all in an effort to thwart an even greater enemy who threatens the lives of everyone Mona loves. Throughout the course of the story, Mona is asked to step up; she acknowledges each request with a healthy dose of sarcasm and doubt, but always meets the challenge head-on and never lets her friends—or herself—down.
A Wizard's Guide to Defensive Baking is a relatively short, fast read which never takes itself too seriously. While there are moments of suspense, intrigue, anguish, and self-sacrifice, for the most part, A Wizard's Guide is just plain fun. It may just be exactly the kind of lightheartedness we all need a little of right now.