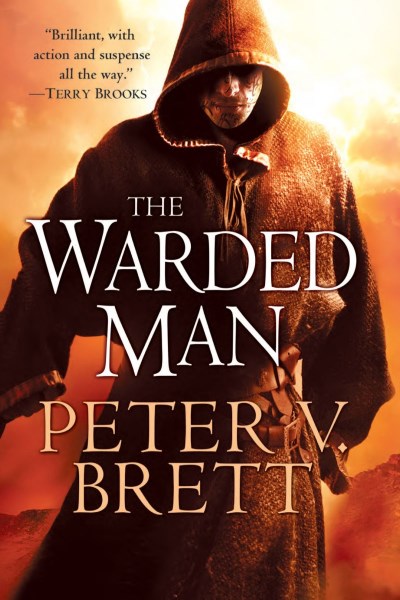 Rating

Review
The Warded Man by Peter V. Brett got off to a great start, but ultimately didn't do it for me. This is a book I'd read a lot about, and so I began reading with a certain amount of pent-up expectation. The concept is great: humans have lost much of their past, including technology and magic they once used to nearly drive the demons that rise from the ground each night into extinction. They survive now only because enough of the warding magic was preserved to protect their houses where they are forced to hide each time the sun goes down. Once, there were attack wards, but those have long been forgotten. Until the Warded Man returns, a legendary figure from a bygone era who not only walks the night, but preys on the very demons who hunt humanity.
If only Brett had launched into the story like that, I think it would have worked much better. Instead he takes us on a long voyage beginning with Arlen's childhood (Arlen eventually becomes the Warded Man), the loss of his mother, and how it drives him to leave his village one day with no concern for the demons that he knows will kill him as soon as the sun sets. He survives that first night, and others, until he arrives at a city where he is taken in by a Messenger, someone who braves the night to bring news and supplies from one village to another.
The story also deals with the upbringing of two other characters: Leesha and Rojer. Leesha becomes a medicine woman and Rojer a Jongleur, a companion to Messengers and an entertainer. Their individual stories are interesting enough. Suffice to say their paths cross with that of Arlen's or, rather, the Warded Man, since that is who Arlen has become by the time the three meet, and together they stage the largest assault on demon-kind the world has seen in a very long time.
While I did enjoy Arlen's transformative journey, I felt that introducing the Warded Man as a more undefined entity might have worked better. Instead, by seeing the Warded Man's origin story laid out in such detail, it takes away all of the mystery surrounding him.
Rojer seemed almost an afterthought at times. He fills up some pages, but was he truly needed? I have my doubts.
Leesha… a likeable character with a deep personality but I had an issue with a plot point in which Leesha is raped. I don't know what the deal is, but this is the second time I've read a somewhat recently released fantasy novel where a rape "happens" (I won't even call them scenes because they are both dealt with after the rape has occurred; the event itself is completely skipped over). The other was Sprunk's Shadow's Son. In both novels, the rape is so unnecessary to the story that I have to wonder if it wasn't the publisher who strongly encouraged made the author put it in. In Leesha's case, in particular, the character goes to great lengths at times to "save herself" for that perfect man she might meet someday (she winds up finding herself attracted to the Warded Man, something I did not get at all; it seemed really forced) only to find herself in the most ridiculous of circumstances and raped. The ridiculous circumstances are when Rojer, an experienced traveler, tells a group of perfect strangers what route they intend to take and, oh, by the way, I'm the only one guarding this fair lady.
Not that The Warded Man is all bad. The whole idea of demons rising every night is top-notch. Brett explains their existence and how humans lost the ability to fight them well-enough, also. I think he really had what could have been a grand series here. Unfortunately, I think he fails to execute and I don't think I'll be picking up the next book in the series.