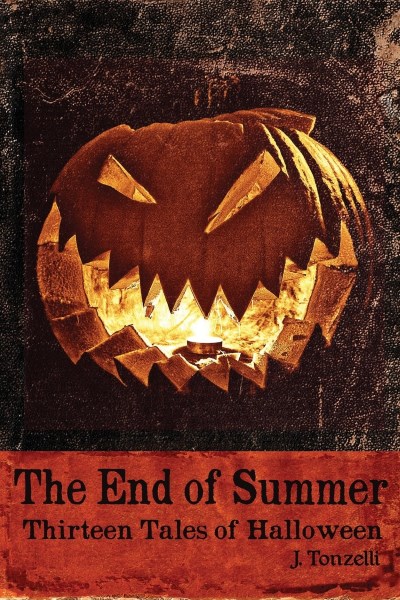 Rating

Review
The End of Summer: Thirteen Tales of Halloween by J. Tonzelli is a collection of tales that run the gamut from horrifying to bittersweet (but mostly horrifying). This is a hard-hitting anthology that pulls no punches and ultimately delivers numerous quality reads that should set the mood perfectly for you for the upcoming holiday. The book description on Amazon really says it best:
The world's oldest celebration comes to life in The End of Summer: Thirteen Tales of Halloween, an anthology that honors the darkest and strangest night of the year. Each story is designed to be intrinsically and intimately about Halloween-its traditions, its myths, and its effects-and they run the gamut from horrifying to heartbreaking. Halloween night is the tapestry through which a haunted house, a monstrous child, a late-night drive to a mysterious destination, and other tales are weaved. Demons are faced, death is defied, and love is tested. And not everyone makes it out alive. The End of Summer has arrived.
Of the thirteen stories, I found none lacking. One might expect, however, varying levels of quality and this collection is no exception. Tastes will undoubtedly vary as well, but I found all of the stories enjoyable (again, horrifying too, but doesn't that equate to 'enjoyable' in the context of Halloween?). "The Halloween Girl of Cold Springs" is a macabre tale about the annual appearance of the ghost of a young girl who died in 1979 in a house fire. The story has a Twilight Zone quality to it in that the people of Cold Springs have accepted and it seems even embraced her ghastly appearance with the pride normally assigned to a local football hero or local who's gone on to great success. Never mind that a pack of supposed wild dogs mutilated numerous town pets the same night the Halloween Girl appeared or that Peter Barnes, who once said, "[Cold Spring] is such a nice place to live that people refuse to leave…even after death!," was found murdered with one hand jammed into the garbage disposal. It's an eerie tale of denial with some fatal consequences.
Another tale, "Wind and Silence," is a chilling story about a sheriff whose past misdeeds finally catch up to him when he is visited by the ghosts from a night he's tried very hard to forget. In "The End of Summer," the story that shares the same name as the anthology, Jamie is spending a seemingly uneventful Halloween with her Uncle Luke and Aunt Lily, never suspecting that the story of live sacrifice told to her by her uncle is about to become all too real for her. Last, "Stingy Jack" tells the story of the Devil come to claim a soul…but not the first time. Stingy Jack, as the Devil calls him, knows a thing or two about cheating Satan, but when the Unholy One comes for him again, will Jack have the wits to escape damnation one more time?
The writing in The End of Summer is consistently good with characters that come to life (or death, as the case may be) in a believable manner based on their situation and personality. I'm giving it four rockets because, for a Halloween collection, it delivers. I think it will satisfy both those looking for holiday themed tales as well as those looking for something horrific. Give it a read this Halloween and each October 31.