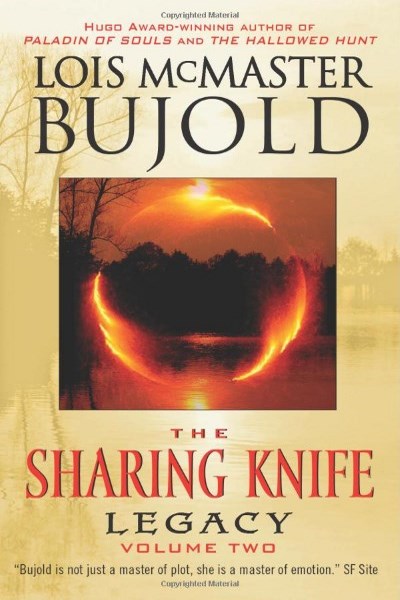 Rating

Review
Legacy is the second book in Bujold's Sharing Knife series. To say it is the continuation of the story begun in book one, Beguilement, is an understatement, for Legacy picks up exactly where Beguilement left off. One might imagine the author having written both books at the same time as one giant volume, then chopping them in two when it came time for publication.
That being said, Legacy is, in fact, a semi-conclusion to events set in motion in book one. Dag and Fawn, married now, set out to return to Dag's Lakewalker camp where they hope to settle into the typical life of a Lakewalker married couple. The reader is given the feeling through Dag that things aren't going to be that simple. In Lakewalker eyes, farmers are not exactly inferior, but certainly not equals. Precedent as well as tradition dictate the two peoples remain separate, for it is believed that long ago Lakewalker sorcerers ruled common folk as lords. But bad things happened, and the modern day scourge of malice was the result. Now, Lakewalkers spend their days searching for malice uprisings, all the while recognizing that it was their doing that created them in the first place.
Dag and Fawn are not greeted with open arms. Just when things seem at their worst for our duo, the camp is presented with the distraction of a particularly bad malice uprising very nearly under a farmer village (a malice feeds best from children, so 'coming up' in such a place presents a bounty for the malice to feed from and grow in power). Dag is selected to lead the war party, and domestic disaster is averted, or is it? I will leave it up to you to find out for yourself.
In many ways Legacy is very much like Beguilement. The writing flows identically; you can tell Bujold wrote them both in one sitting (figuratively speaking, of course). The dilemmas as well, for while Dag and Fawn had to contest Fawn's family and their own traditions, so must they face similar challenges with Dag's Lakewalker brethren. The story also moves along at a fairly even pace. Don't expect a lot of grab you by the seat of your pants action or suspense. There are some gripping moments as the Lakewalker hunting party closes in on the malice and then has to deal with the subsequent fallout, but those moments are short. Mostly, Legacy is a romance about the veteran Lakewalker, Dag, and his farmer bride, Fawn, and the challenges such a union must overcome.
Personally, I'm enjoying the series. The writing is excellent and has a certain 'folksy' mannerism about it that just works. Dag is an interesting character, especially as he begins to discover a whole new side to his sorcery, and one can't but help feel for Fawn as she attempts to make nice with her unappreciative mother-in-law.
Legacy is a fine demonstration of impressive writing, world-building, and characters. In other words, it's a must-read.