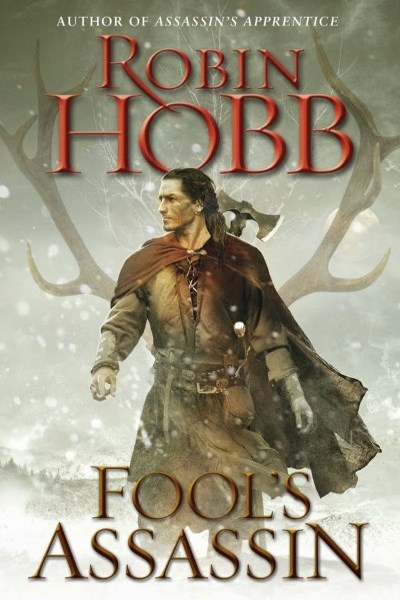 Rating

Review
Fool's Assassin by Robin Hobb is the first novel in Hobb's Fitz and the Fool series, her latest to tell the ongoing story of her beloved character, FitzChivalry Farseer. Hobb began Fitz's journey many books and series ago when the character was a child. All throughout, Fitz has built relationships, made enemies, served his king, loved and lost, and, above all, made nearly every sacrifice imaginable. It's been a long, hard road for the bastard son of Chivalry Farseer, but one that I can say with great relief isn't over yet.
Fool's Assassin picks up not terribly long after Fool's Fate. Fitz has settled into his persona as Tom Badgerlock, holder for the lands of his daughter, Nettle. Because of his past (and everyone thinking he's dead), Fitz must maintain this false identity for his own good and the good of the Farseers. Far from being resentful of it, Fitz has embraced the life of a holder since it keeps him far from the court intrigue and politics so prevalent in Buckkeep Castle. Even better, Fitz has been reunited with the love of his life, Molly, who now resides with him at Withywoods, where they lead an idyllic life. It would seem Fitz, who has sacrificed so much, has finally earned the quiet life he has wanted for so long.
That, in fact, how we find Fitz and Molly getting on for nearly the first half of the book. True to the author's style, Hobb moves us along very slowly. Longtime fans will not be surprised by this at all. It's a testament to Hobb's skill as a writer, though, that even sans many of the plot devices other authors dangle in front of readers to keep their attention, she is able to maintain the reader's interest over hundreds of pages while slowly doling out bits and pieces of the larger story to come. When the end of this first novel in the Fitz and Fool trilogy does come, it comes fast. It left me deeply interested in what's to come next for Fitz as he is finally reunited with his longtime friend, the Fool.
I will freely admit bias when reviewing anything penned by Robin Hobb as she has long been a favorite author of mine. Not that I've embraced everything she's ever written, but I, like so many other readers, has been on Fitz's journey for so long that I doubt there's any story she could tell about him that I didn't find of interest.
Even still, Fool's Assassin earned a rating of three rockets. I would have given it four if only Hobb had cut to the chase a bit and gotten to the real story sooner.