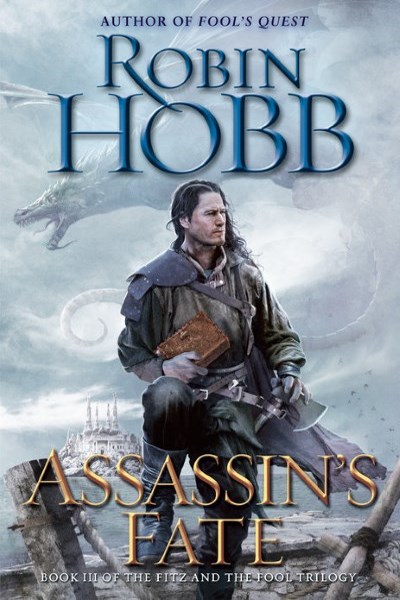 Rating

Review
Assassin's Fate by Robin Hobb is, first and foremost, a book about closure. But as much as it is about endings, it's also about new beginnings. Really, it's the perfect sendoff for a character that is much beloved and one which many of us have spent countless pages journeying along with. Assassin's Fate is the third and final book in The Fitz and the Fool Trilogy, but it is also the final book (for now, anyway) in the Farseer books as a whole. Hobb has created such a rich world, full of so many memorable, engaging characters, though, that I could easily see additional books coming from her set in the various worlds of the Six Duchies, Rain Wilds, or Kelsingra. Speaking of all of those places, Assassin's Fate is worthy of a Marvel film in that it intertwines the various worlds Hobb has concocted and spent entire series delving into by giving us the penultimate crossover as Fitz comes face to face with many of the characters from both the Liveship Traders books and the Rain Wild Chronicles. It really is a treat to see all of these disparate worlds come together into a seamless whole. I'll admit I felt a bit of a thrill when Fitz revisits the map room in Kelsingra, the very same room he visited all those many years (and books) ago when he and Chade first began experimenting with the Skillstones.
Unlike the previous two books in this series, I'm giving Assassin's Fate a solid five rockets. The reason previous installments fell short was because there were just too many pages where nothing significant happens. Not so with this final book. This one is full of plot moving material as we pick up right where Fool's Quest left off. Fitz has healed a number of Kelsingra's residents whose dragon initiated changes have done more harm than good. This is applauded by the Kelsingrans, but not so much by the dragons, who threaten Fitz's life for interfering with the changes they have made in their keepers. Fitz escapes this harrowing predicament unscathed, for he must continue his quest for vengeance against those who killed his daughter, Bee. Of course, Bee is not actually dead, a fact Fitz eventually comes to know.
Speaking of Bee… She's a character I did not like much in the first two books. She's a bit of an oddity most of the time and, when she isn't off doing her own thing, she's a distraction to Fitz's story. But in Assassin's Fate she really comes into her own, seizing her place in the world as it were, as she flies into a final confrontation with her abductors. Looking back at the whole, I found her story arc refreshing. She's admittedly very dependent early on, but when it comes time for her to stand up for herself, she does so admirably well.
Discussing the ending of Assassin's Fate is tough because I don't want to give anything away. I'll say only this: Hobb concludes the series and the story of FitzChivalry Farseer in the only way she could. It's a marvelous ending for a character you've hopefully grown to love as much as I have. Yes, Fitz can be frustrating beyond belief at times, stupid at others, and selfless past the point of heartbreak, but he's also a man of duty and honor (in the way of an assassin, at least) and possesses a stubbornness that knows no bounds. If this book is truly his farewell, then I say Hobb gave him the royal treatment. The road getting there was harrowing, suspenseful, horrible, and wonderful, but completely worth it from a reader's perspective when you can look back at everything he accomplished.
It should come as no surprise that I feel Assassin's Fate should be on every fantasy reader's reading list. Do yourself a favor and start with the first book in the overarching series, the first book in The Farseer Trilogy, Assassin's Apprentice. The journey will be well worth every page.