amazon:B091PQJN46;bn:9780316430685;play:9780316430715;kobo:azura-ghost-1;applebooks:1561575856;audiobooks:;audible: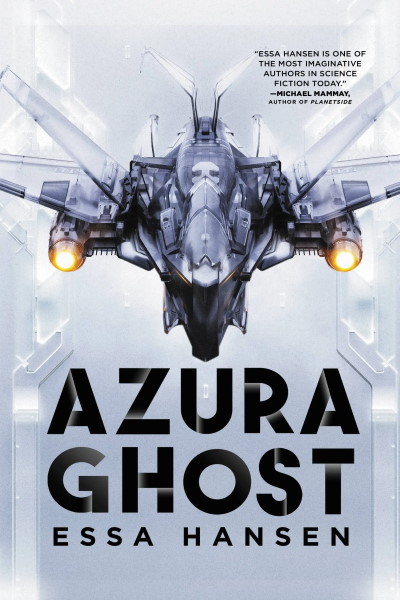 Rating

Author Profile
Web Site: Essa Hansen
Social: Facebook / Twitter / Instagram / Goodreads
Bio: Essa Hansen grew up in beautifully wild areas of California, from the coastal foothills to the Sierra Nevada mountains around Yosemite, before migrating north to the Canadian Rocky Mountains. She has ranched bison and sheep, trained horses, practiced Japanese swordsmanship, and is a licensed falconer. She lives with her cat in the San Francisco Bay Area. As a sound designer for SF and fantasy films, her credits can be found on IMDB.
Book Description
Following Nophek Gloss comes the second book in this highly imaginative new space opera trilogy by debut author Essa Hansen - an action-packed adventure perfect for fans of Star Wars, Children of Time and A Long Way to a Small Angry Planet. Caiden has been on the run for ten years with his unique starship in order to keep his adversary, Threi, imprisoned. But when an old friend he'd once thought dead reappears, he is lured into a game of cat and mouse with the one person whose powers rival Threi's: Threi's sister Abriss. Now with both siblings on the hunt for Caiden and his ship, Caiden must rescue his long-lost friend from their clutches and uncover the source of both his ship's power and his own origins in order to stop Abriss's plan to collapse the multiverse.
Review
Ten years have passed since Caiden put an abrupt end to Threi's plans for multiverse domination by marooning him in a universe which no one can enter or leave. Caiden has been on the run that entire time, fleeing from just about everyone in order to keep his universe generating ship from falling into the wrong hands. It's a lonely life, but Caiden at least has C, a nophek who becomes his faithful companion since Caiden raised him from a pup. Caiden's usual routine is thrown into chaos when an assassin attempts to kill him and steal his ship. Nothing new, really, until Caiden realizes the assassin is linked to a childhood friend he thought long dead. Even worse, by aligning herself with with Threi's greatest enemy, Caiden's long lost friend puts Caiden square in the middle of the rivalry he just spent the past decade trying to avoid.
To say Azura Ghost builds on the first book in the series, Nophek Gloss, is an understatement. The fact is that as events unfold in this second book, Nophek Gloss all of a sudden begins to make much more sense. I had many questions—about the technology, the lucky coincidence of Caiden finding Azura, and the corroboration between Caiden and Threi, for example—that were more or less answered as I read Azura Ghost. In many ways, the author's storytelling ability has gotten better. Nophek was hard to follow at times, with characters that were not well developed and just kind of flat with no real distinctive personalities. Azura Ghost remedies much of that. The storytelling is better, the character development is there now, and the odd coincidences are lessened.
One of the best things about this book is the Azura. In Nophek Gloss, she's basically a ship, albeit with some staggering technology (abilities?). But now she's a character unto herself. It turns out the mind link between Caiden and Azura is more than just a technological bridge and while Azura doesn't communicate in a conventional sense, she is revealed as a sentient entity that can grow, think freely, and ultimately take sides.
The science and technology in the Graven series is pure fantasy and lends credence to the famous Isaac Asimov saying that "any sufficiently advanced technology is indistinguishable from magic." The technology here is so advanced it's almost indecipherable to the reader at times, to the point where I think the author could have spent more of her energy on worldbuilding and character development and less on such amazing tech.
Azura Ghost is a worthy sequel to Nophek Gloss in every way. Questions are answered, the storyline progresses nicely, and new characters bring renewed life to this series. I'm upping my rating by one rocket over the first novel because it's a better read overall and a good stepping stone to the next book in the series.
As always, thank you to the publisher, Orbit Books, for providing a free review copy in exchange for an honest review.