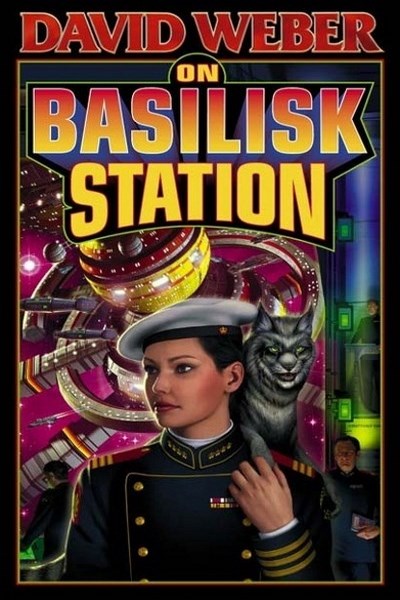 Rating

Review
On Basilisk Station by David Weber is the first book in the Honor Harrington series. The series started in 1992 and, while the main Honor series concluded in 2012 with A Rising Thunder, Weber has written a number of additional series since that time chronicling the continuing adventures of his Royal Manticore Navy captain. In all, there have been some thirty-four Honor Harrington novels. The prospect of reading all of those books is daunting to say the least, which is why I intend to concentrate on reading only the thirteen novels in the original series first. If all goes well with that series, I may continue on. Regardless, anyone coming into the numerous Honor series has many, many books to settle into and get comfy with Honor Harrington as she puts all on the line for queen and country. Some will find that very appealing, others, not so much.
On Basilisk Station begins with our main character just having been promoted to the rank of commander and given her first ship, the Fearless. During her and her new crew's first war games simulation, Commander Harrington proves too clever for her own good, scoring an early kill on the opposition's flagship. The flagship may be out of commission, but not so the remainder of the opposition's fleet, which proceeds to score kill after kill on Fearless as retribution for "destroying" their fleet's command ship. Politics come into play afterwards, and Fearless is assigned to Basilisk Station, a remote outpost where good commanders are sent to idle their careers away performing useless patrols.
But not long after she arrives, Harrington begins to discover the machinations of some unknown persons bent on disrupting the system and possibly more. What follows is a multi-layered story that moves along at a sufficient pace (most of the time) right up to the final, climatic ending where Commander Harrington's stubborn perseverance, tactical expertise, and ability to inspire her people to perform great and heroic actions are on full display.
Weber's writing is serviceable. With the exception of some rather large infodumps (one just as the action is really getting good, no less!) early on and toward the end, he shifts perspectives, injects new information, and heightens the stakes just enough to keep my interest from one chapter to the next. He also spends considerable time introducing us to the crew of the Fearless, which helps to establish these supporting characters as more than just cannon fodder. Bad things do happen; their suffering is felt more poignantly as a result of having gotten to know them.
All told, On Basilisk Station is both a good standalone story and a good introduction to Harrington and the 'Honorverse,' as it's called. I'm looking forward to picking up the next book in the series.